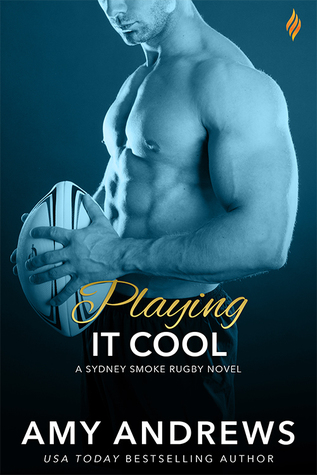 Title: Playing It Cool
Author: Amy Andrews
Published:  September 2016
Source: NetGalley
Length: 163 pages
Tropes: Frat-Boy Alpha-Holes
Quick blurb: Rugby player gets the hots for a jiggly chick.
Quick review: NO THANK YOU and please pass me a moist towelette.
Grade: DNF with extreme prejudice
I've enjoyed several of Andrews' other books, but it'll be a while before I try another one.  This one was a big ol' NO GO from the get-go. I barely made it through the first scene.
Dexter Blake liked a woman with some junk in her trunk. And the tall, curvy chick on the sidelines was packing a whole lot of booty. She had one of those itty-bitty waists, too. And her cups floweth'd over.

Staring at her chest was practically a religious experience.
That's how the book opens. With a sideline full of sweaty manwhores slobbering over Jessica Rabbit. It got worse, quickly.
The Alpha Male Testosterone Levels were so high I could barely breathe — the jock talk about the heroine, both internal and dialogue, was repulsive douche-bro dickbaggery. I felt just plain icky as I read the first few paragraphs.
And uff da, the trope cliches….
And, sadly, as much as sideline-chick ticked every box, her ass was off-limits. One look at her told him she was the kind of girl a guy loved. Got into a relationship with. The kind he married. Made babies with.

She was the commitment type.

Over a decade of avoiding romantic entanglements had alerted Dex to the signs, and this woman had I don't do casual written all over her.

And he didn't do commitment.
The "hero" takes ONE LEERING, DROOLING LOOK at the heroine's ass and immediately knows she's husband-hunting. On page one. I'm not making this up. Maybe the author could just drop an anvil on our heads to make sure we catch the "But He Has Trust Issues" subtext.
[ETA: The heroine doesn't wear obvious makeup, just a touch of sparkly lip gloss, so she's definitely not a slut. That would just be wrong.]
I'm assuming (hoping) Andrews eventually dials down on the "I only like women as sex robots hur-hur pass me a beer" frat-boy mentality, but I wasn't willing to invest my time in finding out. Gross.
*~*~*~*~*~*~*~*~*~*
Another ETA: If you want good rugby romance, read Kat Latham. She has the BEST heroines (I want them all as BFFs) who would have put the smackdown on these fuckwits right quick.